I promise at the end of this little journey through the Sun, Nazism, grammar, and the hypocrisy of Mother Teresa you'll be better set to enjoy the holidays.
I know, I know.
Nobody wants to talk about grammar, but bear with me.
We'll start with a simple question. What color is the Sun? You've probably already answered yellow, maybe thrown in a touch of orange or red, and as a result gotten the answer wrong. I'll repeat that. If you said our Sun is yellow you're wrong. But don't take my word for it. Check out this NASA satellite photo of the Sun.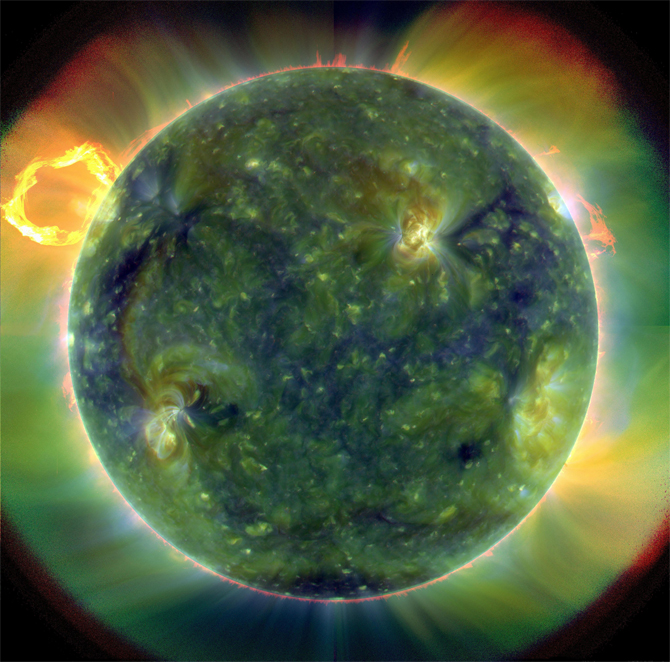 The Sun is, for the most part, green. Technically, yellow is correct because that's the only color people see. The Earth's atmosphere filters out higher spectrum colors leaving us with the familiar glow. However, the truth is that our Sun is a blaze of boiling green. (Well, even more technically correct is in space the Sun burns white, but science, science, science and so forth.)
"But what about Sciencey shows? They throw up yellow pictures of the Sun all the time."
Simple. Cosmologists sometimes change the color of Sun photos so the general public will recognize the image. Consider that if someone showed you a picture of a green sun your first reaction wouldn't be, "Hey that's ours." So instead of having to devote a few minutes to going over things like the color spectrum, and atmospheric light filtration TV cosmologists simply digitally alter the Sun to familiar shades. Then they can get to more important things like how the Sun is planning to kill us all in a few million years.
In the end, people have a perception of the world that isn't wholly true. As a result everyone "knows" the color of the Sun without actually knowing a damn thing about it; reality is a series of perceptions rather than facts.
Take John Dryden. He lived during the 1600s during what is known as Restoration England.
Dryden so dominated the literary landscape at that time he felt safe taking a huge shit on what he considered lesser writers like Ben Jonson and William Shakespeare; and one of the things he criticized them for was using a preposition at the end of sentence. Now, the pretentious out there will say, "Of course he did, and he was right. No one is supposed to end a sentence with a preposition." Which would be fine except there is no actual rule, or obligation under pain of hand amputation not to use a terminal preposition. The whole concept that such a thing is wrong comes, primarily, from John Dryden not liking sentences ending in such a fashion. It was just something he refused to put up with.
One man bitched enough to create what is essentially an urban legend of grammatical correctness. And in a way, this is a good thing because it shows that one person can change the world. So it doesn't take much to alter reality. The question then is how far to take things.
Nobody wants to think of the Nazis as having any sense of decency, but apparently, even they had their limits. Enter Oskar Dirlewanger. Historians have described him as "a psychotic killer and child molester," "violently sadistic," and more than likely a necrophiliac. So it makes perfect sense he was put in charge of an entire brigade... especially since every soldier in it came from either a prison or a lunatic asylum. Imagine a military unit composed of several thousand convicted serial killers, mafia hitmen, and all around violent sociopaths. The Dirlewanger Brigade was a nightmare tornado of rape, torture, baby bayoneting, and gruesome murder; it is estimated that in one day this one brigade murdered almost 35,000 people. Answerable only to Hitler's second in command, Heinrich Himmler, the Dirlewanger Brigade was given free rein to act in whatever manner it wished. As result, they committed atrocities so horrendous that a Nazis judge attempted to have them brought up on war crimes charges.
That bears repeating.
A Nazis judge found the actions of the Dirlewanger Brigade so atrocious he wanted to prosecute them for war crimes. And in a sense he wasn't alone. One SS officer described the brigade as "more a group of pigs than soldiers." General Heinz Guderian wrote to Hitler asking that the brigade be sent to the Eastern Front, a veritable death sentence at the time. Himmler himself often sent orders that local police and troops be on the ready because when the brigade got going they sometimes became so frenzied they killed anything that moved, including other German troops.
In essence, even Nazis didn't want to be associated with the Dirlewanger Brigade. And that means there is a point in everyone where human decency kicks in. There is only so much misery a person can witness or be a cause of before feeling the need to act. Unfortunately, not everyone has that much faith in humanity which brings us to Mother Teresa.
Many know her as the sarcastic taunt most likely to occur when someone tries to do something decent for no apparent reason -- "Way to go Mother Teresa." But this verbal abuse is actually based on a real person. Mother Teresa is regarded by thousands as a true saint. Due to her charity work in the more hellish parts of Indian, she is considered by some as proof of how religion can motive people to great acts of kindness. However, the more appropriate sentiment might be how religion continues to manipulate people into doing something they might not otherwise do.
See, in the later part of her life Mother Teresa began harboring serious doubts about the existence of god. She wrote to close friends expressing concerns such as, "Where is my faith? Even deep down… there is nothing but emptiness and darkness... If there be God — please forgive me." She also wrote, "What do I labor for? If there be no God, there can be no soul. If there be no soul then, Jesus, You also are not true."
In the closing decade of her life Mother Teresa didn't believe in god yet used her saintly status to keep raking in the cash. It sounds harmless -- the money went to charity -- except she kept promoting her cause as a religious one. See, religion doesn't simply offer the notion that helping others is an act of decency, it says charity is rewarded in the afterlife. Every kind act is to be regarded as a point one can exchange later for admission through the pearly gates. The more points one has the easier it is to get in. That Mother Teresa kept, in essence, utilizing this spiritual bribery to elicit donations suggests she didn't trust humanity to be charitable without some motivating factor. Although it is true millions are donated to various charities every year, each donation is the result of some type of catalyst: a super typhoon destroys a country, the right celebrity begs for cash, a loved one dies of or suffers from a particular disease, sitting through the whole sad critter commercial. People give when and where they think it is needed most.
So what does all this have to do with one another?
Based on how people see the world they react accordingly. Yet, how a person views the world is always limited. Those limitations inspire the way in which an individual responds to circumstances, often leading to fatalistic disillusionments such as, "But I'm just one person," regardless of how much one person can in fact affect the world. However, regardless of disillusionment or apathy, from time to time there are events so extreme they force people to act. What motivates a person is irrelevant given that at our core there is something which compels us to stop accepting the various levels of prevalent tragedy. So, in the end, people will do the right thing when they think it's the right time, but the so-called right time is like the color of the Sun -- you only think you know what's best.
My point being don't be cynical about charity. Just because the makers of the Fast and the Furious 6 have now tied the release of that film's DVD to a charity in memorial of recently deceased actor Paul Walker isn't a shameless ploy to increase sales. It has the genuine intent of helping people. So go out this Tuesday and buy it. You might inadvertently help save someone's life.
SOURCE MATERIAL:
http://www.nasa.gov/mission_pages/sdo/news/first-light.html
http://apod.nasa.gov/apod/ap070624.html
http://www.oxforddictionaries.com/words/ending-sentences-with-prepositions
http://www.merriam-webster.com/video/0025-preposition.htm
http://www.telegraph.co.uk/news/worldnews/europe/poland/5171773/Notorious-SS-unit-traced.html
http://www.factualworld.com/article/Oskar_Dirlewanger
Steven J. Zaloga, The Polish Army 1939–45, page 25
Richard Rhodes Masters of Death: The SS-Einsatzgruppen and the Invention of the Holocaust
J Bowyer Bell Besieged: Seven Cities Under Siege, page 190
Bryan Mark Rigg Hitler's Jewish Soldiers: The Untold Story of Nazi Racial Laws and Men of Jewish Descent in the German Military, page 334
http://www.cbsnews.com/news/letters-reveal-mother-teresas-secret/
http://popwatch.ew.com/2013/12/03/fast-furious-dvd-sales-benefit-charity/