So this week I wanted to throw out a little art that I've been working on. However, instead of simply slapping down the one piece I finished I thought it might be interesting to show how it started. For one thing, maybe what I think is the best end isn't. The other is that I hate the idea that anything emerges fully formed. It's a common myth of creativity that the best product comes out on the first try. Sure there might a few revisions, change of contrast, move a few commas, take out a minute of footage, but the initial product is just gold in need of polishing. The real truth is that no one creates something special in one fell swoop.

Now, I won't be going into deep detail, holding hands on the way through this effect, or those digital brush strokes. What I am going to do is show the art I started with followed by the progression of that piece.

I didn't begin with a central concept. When it comes to artwork I rarely do. Concrete ideas tend to get in my way because I worry too much about the reality surrounding them. For instance, I don't have the mechanical skill necessary to draw a vivid shark, so will be distracted by an inability to create a real life portrait. But art isn't about having ever tool in the box. It's about working within the depths of limitation; if the shark isn't working, don't film the shark. As such I just start creating with a loose concept in the back of my mind -- paint a mood, silhouette, etc. Sometimes this means hours spent on a canvas, digital or otherwise, that yields nothing. It's when the abstract imagery tosses an idea into my head I finally get to run with it. In a way it feels like I'm stumbling across what my subconscious wants me to make.


I started by taking the center portion of this and stretching it out with a kind of mirage/mirror effect.
The original intention being to see how many times I could replicate a series of images, perhaps creating some sort of
mandala
.
That led to the next variation...
... in turn inspiring a desire to fool around with some distortion effects.


From here I explored color options and adjusted light levels until I got nearer the final product.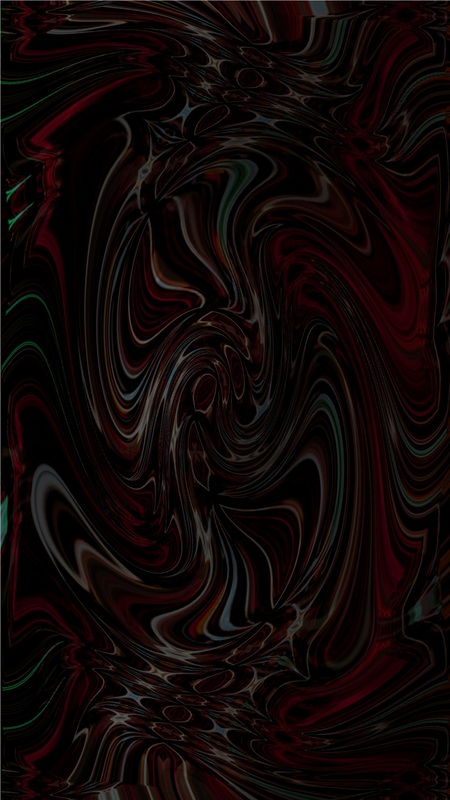 But something still seemed to be missing, so I did a simple thing, I rotated the canvas. It's amazing how the feeling of an image changes merely by adjusting the angle it's viewed at.


To be honest I like the vertical take as much as this horizontal one. That said, I leave it to you to pick which you enjoy the most. I know what I see, but that may not be what you do, and I think it's our individual perspectives which really make the pieces interesting.