Because I did not receive an invitation to the wedding I felt a desire to attend. I reasoned if they really didn't want me to come, the bride and groom could've taken better steps to prevent me from knowing about the impending nuptials. Seeing how they brazenly mentioned it on social media, I felt indirectly invited. Alluding to an open bar, frankly, they might as well have told a moth about a flame. So, in the interest of saving money, with hope of kindling a chance of romance, I ventured downtown to the wedding of Jackie Sanchez and some guy.

I met Jackie in high school. The first time I saw her I learned an erection can swell to a painful degree – dick feeling like a rock about to explode apart. Long licorice colored hair, caramel skin, and sneakers decorated in white out doodles, she inspired feelings I've never learned to properly express. Mainly that's because there's no way to charmingly say, "So I was jerking off the other day, thinking of you, and…" whatever comes next is irrelevant. For some reason most folks aren't flattered to learn they're in the spank bank. Maybe it's something everyone fears they won't live up to. I don't know, I've never had a problem failing people.

Hitching a ride from my buddy Sid, I told him to head to the Art Institute. He pulled over to the curb, put the car in park, and said, "Do not go to Jackie's wedding."

Struggling to put on a tux while seated passenger side, "I resent the implication of your accusation."

He sighed, "You had four years in high school, four years to ask her out."

I nodded, "Truth fact. However, life is a continuous opportunity for those willing to try. I'm not dead. Ergo…"

"Fuck yourself," Sid said, then for emphasis, "Error go fuck yourself."

"Are you gonna drive me to the Art Institute?"

Shifting the car into gear Sid remarked, "Only to see you fail."

I truly believe it's the amount of faith we have in one another that explains why the world is the way it is.

#

Sneaking into any kind of event is an art form. The amount of security dictates the level of infiltration skill required to achieve a successful sneak. For instance, breaking into an eighth grade graduation is very different from photo-bombing the President at the State of the Union. One simply requires ice cream cake and a hammer, while the eighth grade graduation involves chloroform, white wine, peanut dust, and a child sized coffin.

I originally considered crashing the actual wedding, but since it took place in a church I could not. God and I have an understanding, and though we clearly have little respect for one another, I abide by our agreement: I stay out of the churches, God stays out of evolution, and the Winter Olympics. So instead I aimed at the reception.

Security didn't appear to be anything other than Art Institute guards. Instead of preventing flash photography two doorstops in blue blazers checked invites and IDs against a list on a clipboard. Once again I felt like they left the door wide open. Out of myriad gambits, the way one guard blatantly scratched his ass, hand down the back of his pants to get at bare skin, I decided to go with the maneuver known as the Hideous Hideaway.

I called up a video on my phone then approached the entrance.

A guard said, "Good afternoon. May I see your invitation?"

"Sure thing." Smiling I fumbled in my pockets, pretending to be unsure of its location. In the process I pulled out my cell phone which seemed to inspire my remark, "Oh, hey, have you seen this yet?"

I pressed play on the video. It featured insects devouring a man's penis while he writhed in agony. The millipede scrambling down his urethra is as far as most get, missing out on the young woman who comes along to save his cock by stomping the bugs to death. These two made it all the way to the end. That made things easier.

As expected, one guard asked, "Where'd you get that?"

I informed her of the link's location, and while the two hurried to share the hideous spectacle with their friends, I slipped inside. It almost felt too easy. Then I stepped into the banquet hall where I immediately bumped into Jackie's brother Alvaro.

Alvaro Sanchez Junior always impressed me until he spoke. He possessed the regal bearing and beauty of an Aztec emperor. Unfortunately, he often spoke with a toxic tone symptomatic of silver spoon poisoning. This stemmed from the fact Sanchez Senior held a low level, but well connected political position; and many expected Alvaro, as eldest, to assume his father's spot; regardless of the realities of democracy that political seat belonged to him – voters be damned. Groomed, practically from birth, to be, as Alvaro liked to say "a leader of men," he took a method approach to his future. Like a Strasburg disciple, he stayed in the character of king almighty every moment of the day.

We literally bumped into one another when, as I stood perfectly still, he walked into me. For a moment I tensed, expecting him to recognize me. Alvaro never cared for me. I based this on the fact he often told, "I don't care for you." However, he assumed from the second rate quality of my tux that I worked as a server. An assumption made plain when he said:

"Watch where I'm going, and get me some crab puffs, or I'll have you fired." He and a buddy high fived, yet didn't linger. So I headed for the open bar.

There I collected a pair of cocktails, one for each hand. Draining the glasses steadily, I orbited the banquet hall. Staying in one spot ran the risk of prolonged conversation, chancing the development of holes in my cover – anonymity my best camouflage. Still I paused every so often to dance in and out of conversations, killing time saying things like:

"Baseball is a hell of a game if you can stay drunk… I've never been to Guayaquil, but that iguana park sounds fascinating… well, you'd be surprised. Tuberculosis kills all kinds of career opportunities lemme tell ya (cough, cough)… Oh, I know the best man. We used to sell runaways to the circus… No ma'am, I don't think the bride's dress is too tight. She's having trouble sitting because the groom, well, he likes to drill that ass."

In retrospect, I could have been milder in some regards. Yet, no one caught on to the presence of a crasher. I've been to several weddings. They all tend to be the same affair. A nebula of tables adorned with floral centerpieces, ringed by a smattering of guests with various degrees of connectivity. Wedding receptions are the only occasion where it's okay to openly rank family and friends, status defined by seating assignments. Therefore, the trick to remaining discrete involved finding a table with the least desired family and friends. There I could sit, pretending to share in the minimalist joy of having at least been invited.

"That's better than Aunt Frida. No one invites her anywhere."

"That's because she's dead."

"Only on the inside. She's a real downer."

Still, I occasionally chanced brief hellos with those I recognized. Her Aunt Morena, who wrote Xicana literature, a woman with a helmet of hair redefining Chicana archetypes. Grandpa Emilio, whom I always thought of as the old guitarist. I saw his beloved instrument beside his chair -- Ana from the alley of the kiss -- and hoped I'd get a chance to hear him play once more. Cousins Fabiana and Facundo forever locked in a debate about the realism of football. Friend of the family and party regular Vincent Redon in the 800th retelling of the woman at her toilette he saw after the hurricane ripped her house open. Jackie's family and friends gathered, while I snuck booze in the background -- it felt like old times.

When dinner arrived, instead of eating I slipped outside for a smoke. Exiting the room, I jokingly asked the guards if I needed a hand stamp to get back in.

One laughed, "Nope, but you gotta watch this."

He showed me a video of four women explosively shitting on the floor. They then used the excrement as finger paint to draw floral designs on one another like sewer hippies. I made an exaggerated display of comical disgust. Delighted, the guards waved me off, and returned to finding more revolting videos.

Outside I felt my phone buzz.

Sid texted, "I can't believe you're still in there."

"Believe it," I typed back.

"How much longer?"

Good question, I thought.

After high school Jackie and I didn't keep in touch. By then we'd gone down very different roads. We used to be kids searching for how to be who we wanted to be, following breadcrumbs laid out by albums, films, and books. We could agree on the significance of a song, but not the whole album; the brilliance of a line from, though not the entire film, or book. It seemed to me we were only off by a slight degree, that one shared element would bring us into sync. But by the time we graduated… we took comfort in dissimilar realities, that one thing never having materialized.

Over a decade later, when social media blossomed, we got back in touch; however, it rarely amounted to more than peripheral interactions.

Post: Look at dis cutest kittie!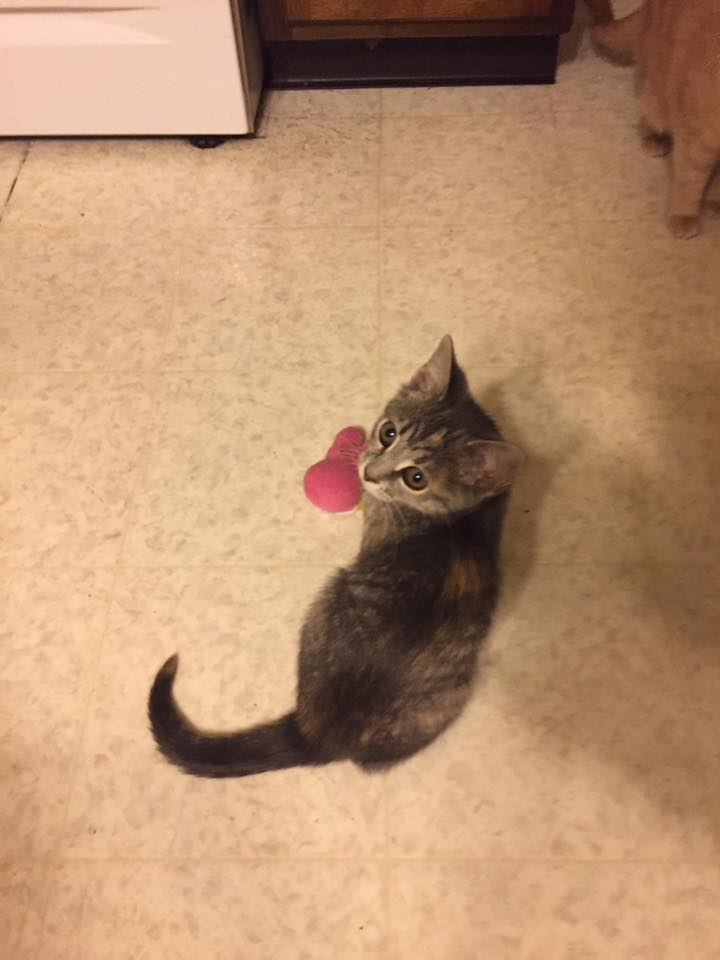 "Liked" by Jackie Sanchez.
Strolling back to the banquet area, it dawned on me my infatuation with Jackie stemmed mostly from not dating her. We never had a romantic relationship, so it never failed; therefore it could've been anything. Possibilities are endless in the absence of contrary evidence. Because I could only imagine us together I could always imagine us perfectly. And oddly enough, fantasies have a way of making promises.
Promises like if I got the DJ to play
Patti Smith's "Because the Night"
, the song would inspire the words I needed to say to win her heart. Seizing one last bold chance for love go up to the head table while the song fills the air, and speak – about this time I realized I hadn't merely been vividly imagining the scenario, but actually now stood in front of the head table, Jackie staring over her
pollo relleno
in wide eyed disbelief.
"Howdy do?" I said, immediately regretting my very existence. If nothing else, I doubt any romantic victory ever began with
howdy do
, although I could be wrong.
Jackie blinked, "I'm good. How... how are you?"
"Not bad." I put my hands in my pockets, wondering how many times I'd have to punch myself in the throat with my keys before I finally killed myself. I said, "It's been a while."
"Yes it has," she nodded, "The last time I saw you, you set my boyfriend's car on fire."
"This is that guy?" her husband said. He suddenly looked desperate to call the police.
Smiling, I said, "That is indeed me."
"What are you doing here?" Jackie asked.
I sincerely believe honesty is the best move. However, on this occasion, I lied, "Well, to tell you the truth, I'm here to steal a painting, saw y'all in here, and thought I'd stop by to say congratulations."
"Thanks?" her husband said.
"Thank you," Jackie smiled. She got up, hurried around the table to hug me. She smelled amazing, the kind of aroma that cures depression. She whispered in my ear, "You'll go to jail if you steal a painting. Please tell me this is some deranged romantic stunt."
It felt like an opening, yet I oddly enough knew better. I squeezed her gently, "Nope." Stepping away from her I waved to the groom, "Once again, congratulations. I'd stay, but timing is everything. Don't want to miss my moment."
Heading out, feeling several eyes on me, I texted Sid: "be out front, engine running, backseat open."
Minutes later, running down the steps of the Art Institute, carrying one of Monet's "Haystacks" – I had to steal something to diminish the lie – I found myself wondering what else I needed to let go of. Diving into the backseat of Sid's car, we peeled out, rocketing home.
Glancing in the rearview Sid said, "What the fuck is that?"
"One of six, 25 technically – they can spare one."
He cracked a beer, "So how was the reception?"
"A little too clear."
My impression of the past would no longer be the same, but that's just growing up. I tapped Sid on the shoulder. He handed me a beer. Opening it I thought, "Here's to you Jackie. I'm glad you're happy."
Sid said, "You know alotta marriages end in divorce."
"Yeah." But I didn't feel like hoping for that. I felt like finding another dream girl, only this time actually trying to hold her instead of chasing the mirage.